ಮೇಲೆ
261 users have liked.
With the recent introduction of Namma Metro E-W corridor, lot of fanfare from media as well as public. The line is already takng 1,30,000 passengers. One end of the line, people are parking their vehicles and boarding Metro, while the other end if they are not IT crowd not working in Whitefield or Eastern Outer Ring Road, such as Vidhana Soudha / MS Building, they are benefitted.
If you are working in an IT office like me, whatever benefit we are getting from Metro with travel time of 35 mins from Nayandanahalli to Byappanahalli is compensated by the time taken to reach your office from Byappanahalli - Thanks to the 'ever hanging' bridge of KR Puram.
For instance, my office in Bagmane World Technology Centre to Byappanahalli, I took 1 hour to reach by city bus to travel a mere 6kms.
BMRCL extended its route in Phase 1 itself which was done without proper analysis. It was more of a feasibility study than the necessity such as Reach 3 extension from Peenya to Hesarghatta Cross and Reach 4 extension from RV Road to Konankunte Cross was not absolutely needed. What was needed was extension of Reach 1 to KR Puram to cross this infamous hanging bridge.
Now coming to trains, during peak hours it is having crush load especially from Indiranagar to Attiguppe. BMRCL is not increasing the frequency to the promised 3 minutes atleast during peak hours. May be they do not have the rakes.
To accomplish this, it took 9 years. It all started in 2007 and completed in 2016. Indeed, Metro is great. Nice to travel in 20 mins from Majestic to Byappanahalli. But the routes planned had pitfalls. I am not taking credit away from BMRCL.
Can Bangalore wait so long for its traffic problems?
What we need to do is have a sustainable solutions something like 'quick fix' at an affordable cost. What Metro does, can it be done in alternative and cheaper technology? Yes as per major sustainable projects across world.
Metro is achieving an average of 30kph in Bangalore - taking 35 minutes for 18kms which ideally should have been 50kph. 30 kph can be achieved by buses if they are given exclusive lane. Coming to cost, in India it is costing around 20crore per km of BRTS as against 200 crores for elevated and 500 crores for underground metro.
Looking at this majority of south american cities like Bogota, Curitiba, Sao Paulo , Mexico City and many Chinese cities like Beijing and Ghungzao is taking BRTS route. Our outer ring road can certainly have this kind of solution. What we have is a chaotic 5 lane road either side with uncontrolled traffic. There are two lanes for service road and 3 lanes for main street. Instead of two lanes of service road, one lane of service road and one lane of median BRTS with skywalks to approach the stations something like this in Ghunzao: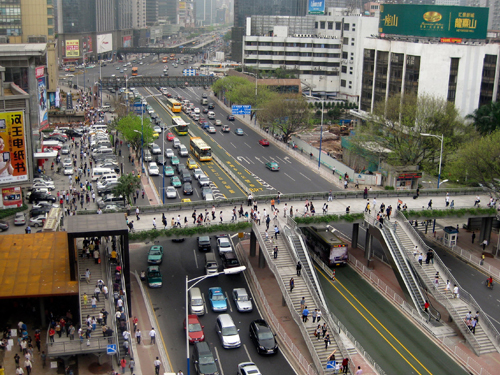 The service lanes can also be utilized for cycle corridors. Most of the people coming to ORR companies in their private cars and 2 wheelers are from nearby areas compared to far off places as it financially works out for them. Their parking should be charged in offices and promote the usage of cycles.
Same Metro card can be used for BRTS access or token systems. Even with Volvo buses, this works out lot cheaper compared to Metro.
KR Puram - Silkboard Metro is planned in Phase 3. Can we wait till then?
KR Puram to silkboard is around 18 kms and it can be covered in 30 mins. Similar