ಮೇಲೆ
157 users have liked.
http://zeenews.india.com/news/uttar-pradesh/hit-and-run-case-in-noida-speeding-bmw-knocks-down-four-people_1876730.html
http://indianexpress.com/article/india/india-news-india/mercedes-hit-and-run-juvenile-crashed-mercedes-in-february-was-warned-and-let-go/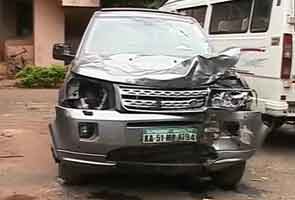 http://www.ndtv.com/bangalore-news/bangalore-hit-and-run-case-suv-driver-who-killed-4-surrenders-in-court-528662
Frequent accidents of luxurious powerful vehicles driven for fun for the upper class is claiming innocent lives, especially pedestrains, cyclists and 2 wheelers and also other small cars. Recent hit of Hemamalini's Mercedes, always in news Salman Khan's Prado run over are all reminding me of the famous and award winning Shankar Nag movie 'Accident'.
Purchasing power of people has increased and the sales of fast and luxury cars are increasing everyday. New luxury car makers are planning to enter Indian market. These kind of vehicle needs highly matured and responsible driving as in abroad which is totally lacking in India. People in India if road is empty irrespective of the condition, people drive crazily. The luxurious and powerful car sector people feel that they will not suffer anything due to the safety features present in the cars and drive even more recklessly without caring for others on the road.
These cars also pollute more which that class of people never accept, rather argue 2 wheelers pollute more or trains pollute more.
Delhi did a right thing by banning 2000+ cc diesel cars. They should have been banned it based on the bhp of the car like 100bhp or more. For Indian conditions 100bhp is good enough (more than enough). We need more safety features like these luxurious cars in sub 100 bhp cars itself. Why not ban above 100 bhp cars.
Government will not take any action as most of these car users are running the Government . All the political parties would unite against any such move.