ಮೇಲೆ
351 users have liked.
Ranganath Swamy, Assistant Conservator of Forests, BBMP Forest Cell, said the existing roads were being constantly used and re-used for infrastructure projects, making trees vulnerable in the city. As a result, saplings can be planted only in "closed spaces" like educational institutions, fenced government premises and clubs.


The BBMP Forest Cell had suggested to the engineering wing to retain or undertake fresh plantation on new Tender SURE roads, but the request was turned down on the grounds that the infrastructure would get disturbed because of underground pipelines and cables. This has led to further reduction in space, said a forest cell official.

more here
If this is the way our city is heading and this is what the authorities think about trees on streets then we will end up in the dumps soon for sure!
TendeSURE roads are good and is a welcome break from the past but not having new trees on them is a very big blunder they are doing!
The thought of underground utilities are not not new by any means and also the solutions to have trees on such pavements with underground utilites is also not new.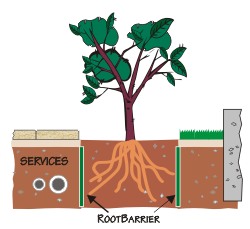 Root barriers are not at all new and is a very efficient way of managing the problems with roots. Representations were made to JUSP and BBMP from Praja about this, but everything in vain!
All that lacks is a will to do it by the authorities,,,A will to make this city more and green!
Hope sense prevails!!
Again the falling trees during monsoon and otherwise is because of some simple mistakes of the past which can be undone easily..but they arent a sufficient reason to stop with trees in the city streets altogether!