The meet started shortly after 10AM at the senate hall of the prestigious Bangalore central collage premises. The organizers were seen giving final touches to the Auditorium when we entered the Auditorium at 10AM. That was when we saw the session chairman a Swami being ushered in by the reception committee.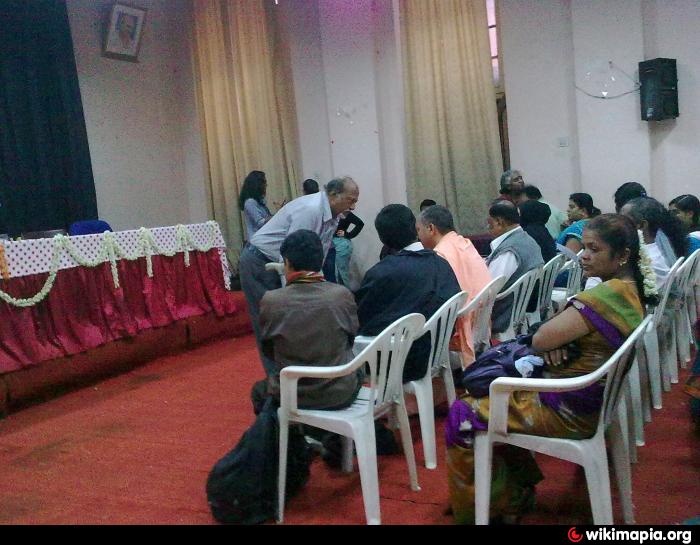 Pic -1 Mr. Vasanth Kumar Mysore mutt talking to his holiness Veerabhadra Chennamalla Swamiji of Nidumamidi Mutt.
It was around 11:00 hrs as I guess the meet started with the speakers and the secretary on the Dais.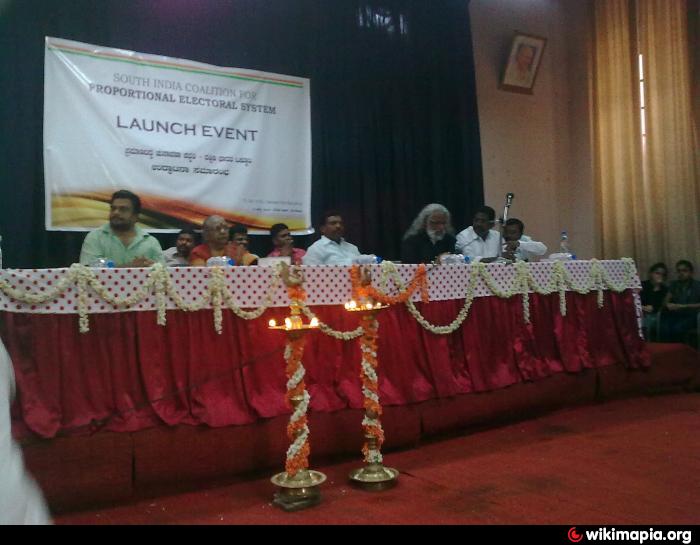 Pic-2 The convener Mr. Manohar Elavarthi introducing the dignitaries on the Dais. Ms. Sheema Mohsin was the other covenar.
After the welcome address the inauguration took place with the traditional lighting of the ceremonial lamp.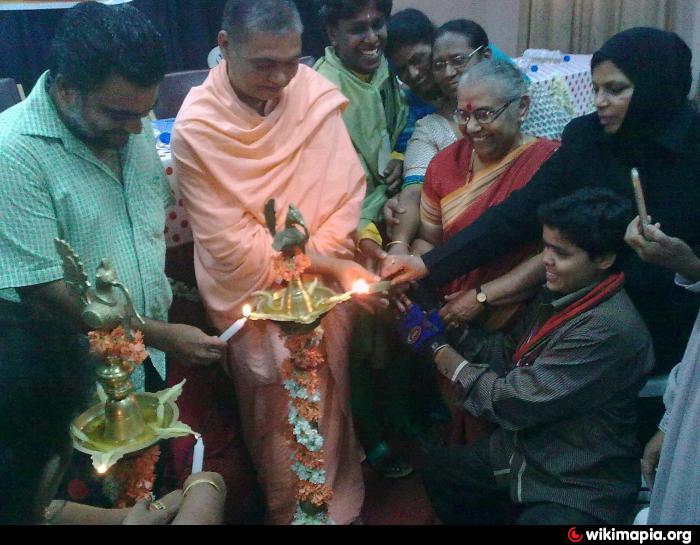 Pic-3 the conventional Lighting of the lamp
The Inaugural Session was presided by Nadoja Dr. Kamala Hampana. Shri Veerabhadra Channamalla Swamiji of Niduramidi Mutt. Gave the Inaugural address. The orientation speech was delivered by Mr. Thirumavalavan MP, VCK. The Key note address was givwn by Mr. MC Raj Founder CERI
We had seen the differently able boy in the picture above being carried like a child by a Good Samaritan who had put the boy in a front row chair well before the start of the event. While seated, one could not make out his being highly disabled. Apart from this disabled boy and others, I believe there was trance gender audience too at the venue.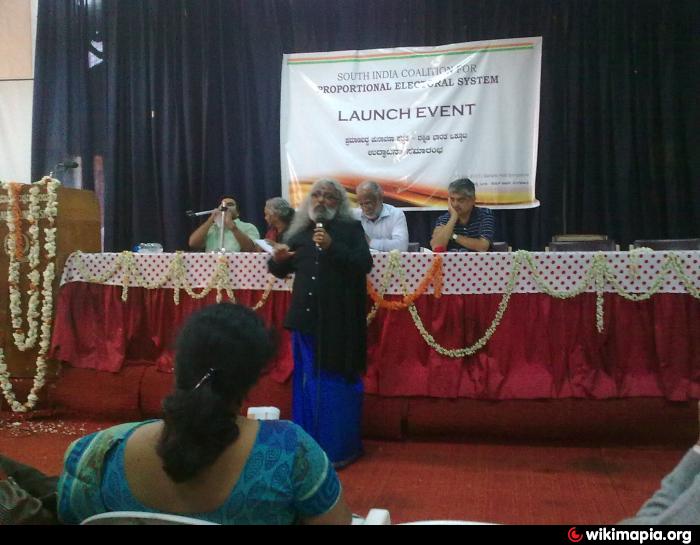 Picture 4 The Interactive session
Proportional representation voting (PR) is the main rival to plurality-majority voting. Among advanced western democracies it has become the predominant voting system. For instance, in Western Europe, 21 of 28 countries use proportional representation, including Austria, Belgium, Cyprus, Denmark, Finland, Germany, Greece, Ireland, Luxembourg, Malta, the Netherlands, Norway, Portugal, Spain, Sweden, and Switzerland. ------ Click [1]
Regional parties that find themselves way behind the 'big fish' in electoral politics, eminent people's movements and civil society organizations as well as deeply committed individuals will come together to formally launch the South India Coalition for Proportional Electoral System.

------------Click [2]
The concept of "power in numbers" is omnipotent in every form within society. Proportional representation (PR), when executed suitably, is completely based on the "power in numbers" idea. It proves to the population that every vote counts. Proportional representation is undoubtedly a better system of voting Members of Parliament into the House of Commons because of its ease of use and fairness to the entire Canadian population. An excellent example of this is demonstrated by Norway who has been using PR for more than 11 years. Click[3]