FInally BMRCL has published the UG route with station details of the new red line coming up between Gotigere and Nagavara. THe line goes UG at Dairy circle and has 12 stations on that stretch. The details are at the link below which was published recently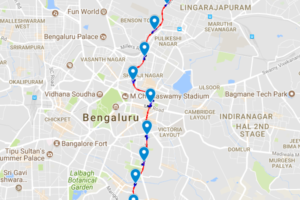 Some positives from the map is :
Sholay circle now has a gate closer which will cater to the offices and establishments there
MG road interchange..not really an interchange in official terms as there is a physical separation of the lines...but now the station on red line seems closer to MG rd stn
Integration with Shivajinagar bus stand seems good..
But there seems to some huge gaps in the route too..
Starting with the cantt IR station integration..which seems to be totally missing..the proposed metro station is atleast 1 Km walking distance from the IR ticket counters (>2KM vehicle access).
No integration with the medical facilities or with clusters of IT companies and Christ college at Dairy circle
Please share your thoughts and suggestions..